Fish Icon Editor
It helps you to make icons and manage icon collections.
Whether you are a professional icon designer, software developer or simply like to customize your desktop and folders, you will love this icon editor. Make icons and cursors with Fish Icon Maker, manage icon libraries, and import icons from various image formats. Save time using batch conversion operations. Enhance your images with sophisticated effects, a multi-layer design model and support for Windows 8/7/Vista. Made for professionals!
| | |
| --- | --- |
| | Supported formats: ICO, BMP, GIF, JPEG, CUR, TGA, PNG, ICNS |
With this icon maker you can:
Make icons for iOS, Android, Windows, Web
Create and edit icons in either standard or custom sizes, in color depths up to 16 million colors
Create and edit icons for Windows in 32-bit color depth with 8-bit alpha channel
Create and store images containing several layers
Paint images with gradient and chess fill
Modify images with drop shadow, opacity, smooth, negative, grayscale, colorize, hue/saturation, rotate, roll and mirror effects
Replace image colors
Create and manage icon libraries for better and more efficient storage
Paste images in various graphic formats (ICO, ICPR, BMP, JPEG and PNG) directly into icons
Export icon images to ICO, ICPR, BMP, JPEG and PNG files
Extract icons from Windows executables, libraries and animated cursor files
Extract icons from all files in selected folders and subfolders and save them as icon libraries
Convert Mac icons to Windows format
Modify icons inside executables and other program files
Sort images inside icons and icons inside libraries
Customize Windows Desktop and folder icons
Drag and drop files from file shells
Drag and drop icons between different libraries
---
Software Icon Library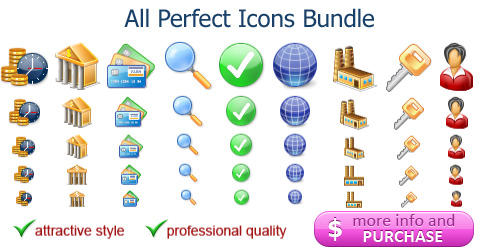 Windows Toolbar Icons
Perfect Business Icons
Icons for Windows 7/8 and Vista
All Icon Sets from 777icons.com






This set of icons for Windows 7 is collected from Windows 7 application and library files. The set contains 430 quality icons in sizes of 256x256, 64x64, 48x48, 32x32, and 16x16 pixels in Windows ICO and PNG formats.

Icon Articles
GUI will need not be boring over again
While creating an application the most widespread problem that developers come upon is receiving the best combination of functions within the distinct GUI. From the ambitious industry, having the interfaceright is of utmost significance, the business tool bar icons to your Windows cell phone applications can probably aid in this regard.


Tab Bar Icons with Source Vector Files
Tab Bar Icons For Mobile Apps
iOS Tab Bar Icon Set

Tab Bar iOS Icons
High Resolution App Tab Bar Icons for iPhone & iPad

3d Glossy Icons
Application Bar Icons for Windows Phone 7 Series
Blue Icons
Black Icons

Avia Software Icons
Professional Toolbar Icons
Ribbon Bar Icons
Glossy Toolbar Icons
3d Business Icons
Glossy Data Icons
Perfect Automation Icons
Android Icon Pack

Medical Tab Bar Icons for iPhone & iPad
Hotel App Tab Bar Icons for iPhone & iPad
App Bar Icons for Windows Phone and Windows 8
Medical Icons for WP7
---
Itís a Complete Extensive Realm of Icons Right Here
The actual screen is certainly a vital a part of an application, since it is first thing anyone realises regarding it. The moment an individual can get used to the particular business logic, he would have created pre-conceptions with regard to the app depending on the GUI, which you will subsequently be unable to rectify no matter how state-of-the-art your back-end is actually. Using the Aero people designs should really assist.

A great Graphical User Interface is critical for an applications success, and it is typically hard for programmers to have it suitable. Many people find yourself proceeding overboard while using fancy stuffs that entirely conceals the features inside, while some find yourself leaving behind things much too short and also dull. Buying the correct stability is tough to realize as well as alongside talent you'll want a particular a higher level desires to be able to picturize the software. Each compact division of your own user-interface must be meticulously worked upon to prevent the particular business logic through getting lost within the litter, although delivering an attractive visual; this can be easier in theory. The main problem is made easier considering the aid of Aero people designs, who go further as compared to something I've come across although wanting to construct icon images for individuals.

These are particularly interesting in case you are looking to create software packages that are persons driven, or maybe which usually demand people today of various occupations, civilizations and categories to be recognized through one another. You could have with you extremely illustrative as well as colourful images for several fascinating icons for guys, women, infants, youngsters, scientists, motor mechanic, tooth doctor, cardiologists and every additional profession you can possibly think of. Getting these to some totally new degree we have icons for a hitman, robber, barbarian, a super hero, smart monkey, a demon, an orc, the mummy, along with a rabbit in a suit thatís supposed to be a playboy. All of all these artwork happen to be formulated with plenty of hard work which in turn presents within the easy still unique way these photos have been completely manufactured.

A thing regarding their technical specs, these types of photos can be purchased in 5 various dimensions and are compatible with applications on several different systems for instance MS Windows, Macintosh OS, iOS and even Android. these can be bought in two colour schemes including 256 tones along with 32 bit colours, and also have a see-thorugh background to select it. This is available to you to a quite modest cost of $ninety nine.

A great software package needs to be an amalgamation of numerous sensible points. Aero people designs can assist you get those act together so far as the particular UI can be involved and also ensures basic circulation of control over the software package along with giving it an aura of elegance that most soft wares discover hard to reach. a majority of these may be used to distinguish between societal users promptly. Styling a GUI wasn't anywhere near this much entertaining, considering the Pandoraís Box of designs which will range from a customer image to an Uncle Sam symbol.