Windows 8 is released to manufacture. The performance, new features, and brand-new looks of the new Windows are amazing. But what does this mean for webmasters, designers, and software developers?
All-new looks of the new system mean an updated style of the graphics in software and Web applications. Fortunately, this time Microsoft decided to stick with style used in Windows icons. If you are planning to update your products with Windows 8 style icons, you don't have to do much if you already have your icons in Windows 7 style. If you don't, download Windows 7 icons right now from this site! Even if you have some Windows 7 icons, the new Icons for Windows 8 pack has images unique to Windows 8 and not appearing in Windows 7.
Software Icon Library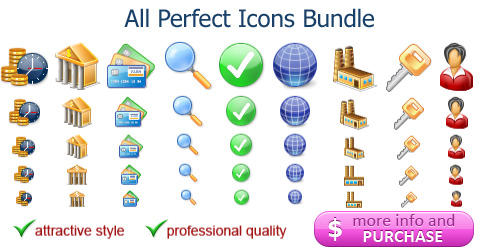 Windows Toolbar Icons
Perfect Business Icons
Fish Icon Editor
Icons for Windows 7/8 and Vista
All Icon Sets from 777icons.com
This set of icons for Windows 7 is collected from Windows 7 application and library files. The set contains 430 quality icons in sizes of 256x256, 64x64, 48x48, 32x32, and 16x16 pixels in Windows ICO and PNG formats.
Icon Articles
GUI will need not be boring over again
While creating an application the most widespread problem that developers come upon is receiving the best combination of functions within the distinct GUI. From the ambitious industry, having the interfaceright is of utmost significance, the business tool bar icons to your Windows cell phone applications can probably aid in this regard.


Tab Bar Icons with Source Vector Files
Tab Bar Icons For Mobile Apps
iOS Tab Bar Icon Set

Tab Bar iOS Icons
High Resolution App Tab Bar Icons for iPhone & iPad

3d Glossy Icons
Application Bar Icons for Windows Phone 7 Series
Blue Icons
Black Icons

Avia Software Icons
Professional Toolbar Icons
Ribbon Bar Icons
Glossy Toolbar Icons
3d Business Icons
Glossy Data Icons
Perfect Automation Icons
Android Icon Pack

Medical Tab Bar Icons for iPhone & iPad
Hotel App Tab Bar Icons for iPhone & iPad
App Bar Icons for Windows Phone and Windows 8
Medical Icons for WP7
A good app with out effective business logic wouldn't get very far where the buzz amongst people is viewed, nevertheless, a lot of very good softwares functionally happen to be recognized to fall short as a result of lacking an excellent GUI. The thing to comprehend right here is the fact that with a good uidoes not always mean you have to have angels popping over to supply monetary GUIdance; the sole uncomplicated prerequisite is simple navigation, and a easy combinations of illustrations or photos with a perfect colour mode. Numerous software engineers have overlooked it thus to their declining, several only lack the skill or maybe the creativeness to have the interface correct.
So how do you go about issues whenever you cannot afford a specialist to formulate each bit of the front end of the software, you can not just rip pictures from the world-wide-web as most of them are powerfully secured by strict the laws of copyright, the solution lies on this web site as
aero business symbols
. You can buy for your own benefit a collection of above five hundred top notch
designs
which you can use at the application. Such pictures possess a overall size of forty-eight by forty-eight pixels with a 26 by twenty six pixel entity amidst it. All these graphics are usually compatible with almost all MS Windows 8 plus Microsoft Windows phone softwares that you may be establishing are available within the commonly suitable PNG format. The color strategies of these
icons
provide these to an individual in fourteen diverse colors ranging from the regular white, silver, grey and dark to far more visible light-red, greens plus yellows. One thing to notice of is that this all is made open to you at a reasonable expense of 99 greenbacks.
Whilst getting jointly this collection of
icons
the coders have painstakingly went about attempting to analyse just about every necessity you might have currently or even in foreseeable future. They've already provided you with apparent, clear to see images for the typical pieces that you really discover about any screen, like save button, a close screen button, carts, back, forward, as well as additional lesser utilised nonetheless equally important
designs
of clients, consumer, consumer data symbol together with a social media symbol. The principle problem whilst developing these has been making sure these are generally self-descriptive, and are generally sharp enough to appear and also realized through the naked eye.
Introducing these
symbols
to your interfaces will give all of them an ordered in addition to sophisticated elegance that could well be a little hard to achieve. Simply by putting them in synergy you can easily be sure that the back end in the
software
is divided harmoniously across the application and is not cluttered in on a single page. More than anything, this will assist in keeping your own app basic when nevertheless ensuring that it possesses a experienced sense into it. There's not a much more that you can look for now can you.